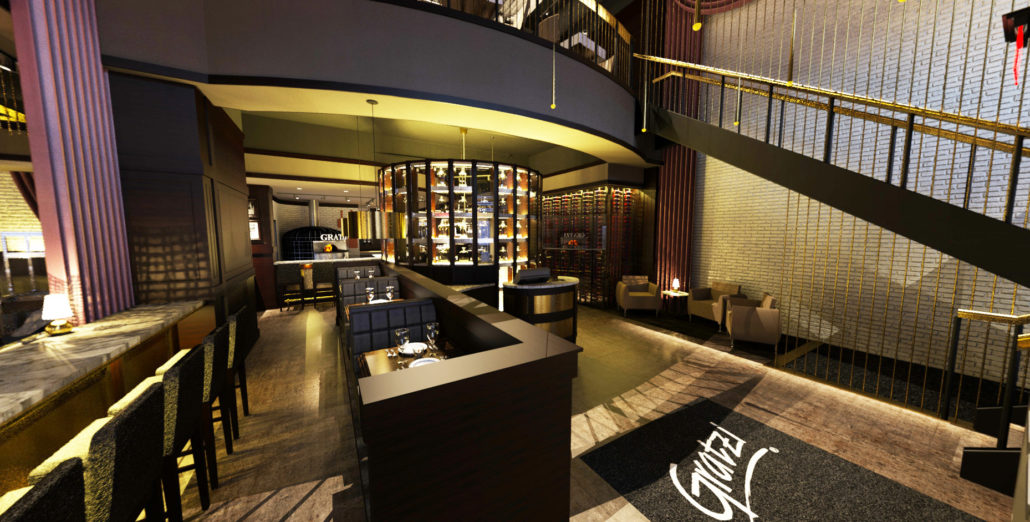 Midland, MI – February 15, 2017 – Gratzi has been announced as Downtown Midland's newest restaurant, located in THE H Residence on the corner of Ashman and Main Streets. Gratzi joins the Northwood Gallery and the Midland Visitors Center to fully complete the main floor. The elegant restaurant will prepare regionally inspired Italian cuisine with a distinctive flair.
Owned and operated by Ann Arbor-based Mainstreet Ventures, Gratzi is an iconic restaurant featuring regional Italian cuisine and fine wine. Mainstreet Ventures also owns Gratzi located in Ann Arbor which has been an award-winning restaurant for over 20 years.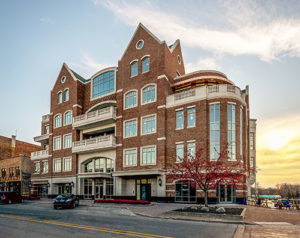 "We're thrilled that Mainstreet Ventures has selected Downtown Midland for Gratzi. Anyone who has had the opportunity to dine at Gratzi in Ann Arbor knows what a wonderful experience it is. We look forward to bringing an outstanding dining experience to the region," says Peter Shaheen, vice president of Shaheen Development, THE H RESIDENCE developer. The restaurant which is slated to open late 2017 is a result of a new partnership and joint investment between Shaheen Development and TCP Investments.
Perfect for lunch or dinner, Gratzi Midland will have two levels of seating, including 200 seats inside, outdoor dining, and accommodations for private dining. Its décor will offer a warm, modern feel, with design elements that include an inviting bar, intimate seating areas and an open kitchen. As a unique menu offering to guests, Gratzi Midland will feature a wood fired brick and clay pizza oven producing specialty pizzas from Chef's signature creations. The restaurant is expected to employ about 100 people.
"We're very excited about opening Gratzi in Midland," says Mike Gibbons, CEO of Mainstreet Ventures. "Midland is a special community and the restaurant is going to be first class. Midland will be proud."
"We appreciate the investment that Shaheen Development has been making downtown in recent years and are proud to be part of this project. Gratzi will be a wonderful addition to Midland," says Dave Kepler, TCP Investments president.
About THE H Residence
THE H Residence is an 80,000 square foot mixed-use development, with heated underground parking, street level restaurant and retail, and upscale residential condominiums on the upper floors. For more information on the development, please visit www.HResidence.com.
About Main Street Ventures
Mainstreet Ventures' mission is to consistently exceed guest expectations by providing memorable dining experiences in creative and distinctive restaurants. To learn more about Mainstreet Ventures, visit www.MainstreetVenturesInc.com.
Read More Online:
Mlive.com
Midland Daily News
WNEM
Morning Sun News
WSGW